Hey folks! What a great time we all had at Kentucky Music Week 2023! Right now, we are tentatively planning to bring the festival back to Bardstown. The dates are June 23-28, 2024. We will post classes and artists at a later date. Looking forward to seeing everyone at KMW 2024!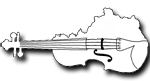 Kentucky Music Week offers a full five days of instruction in a wide variety of traditional arts including all levels of fretted dulcimer and hammered dulcimer, classes in ukulele, guitar, banjo, fiddle, autoharp, penny whistle, vocal classes, old-time craft classes, and much, much more! Over 170 class choices are offered this year with something for everyone!
Festivities begin with a huge welcome party and jam session Sunday evening. Week-long evening activities include concerts by instructors, open stage opportunities for participants, bonus afternoon workshops, lots of jams, an opportunity to visit area attractions, campground jam, Mardi Gras Party and Finale' Jam!
A wonderful week is planned full of music classes, jammin', making new friends and seeing old ones again in beautiful Shepherdsville, Kentucky.
---